Hamburg Town Beach & Park
Location / Directions / Maps
Location: On the east end of Lake Erie; off of NY-5; west of the hamlet of Athol Springs; Town of Hamburg; Erie County; New York.
Maps: Google map; Topographic; Interactive map
GPS Coordinates:
Parking area off of Rt 5: N 42.76357 / W 78.87845
Boat launch: N 42.76573 / W 78.87635
Directions: From Buffalo (north): Take the Buffalo Skyway (NY-5) south through Lackawana and along Lake Erie for 8.5 miles. Turn right at the stoplight at the intersection with Windsor Terrace.
From Erie/Dunkirk (south): You can follow NY-5 (Lakeshore Rd) north past Wanakah and turn left at the stoplight at the intersection with Windsor Terrace.
Use Google Maps.
Parking: This park is for Town of Hamburg residents (and their guests) only. There are two main lots: one gravel lot at the east end of the park near the boat launch, and one above the west end.
Information / Accessibility / Accommodations
Seasons/Hours: The park can be accessed pretty much year-round, with the beach open typically from the first weekend in June through Labor Day, 11 am to 8 pm.
Admission: The Hamburg Town website states: "The Town Park/Beach is open to all Town of Hamburg Residents; park permit stickers must be purchased at the Hamburg Fitness Center, located in the building overlooking the beach." Although, when we visited, on an off weekend day, we found no problems parking and checking out the park without this permit. Who knows if this rule is enforced. Permits are $20.00 for Resident Adults $10.00 for Resident Seniors
Best time to visit: Spring through fall.
Time: One can stop and see the lake within a few minutes. A picnic, swimming, and a walk circling the park could be an hour or more.
Handicap accessibility: Partially. Walkways are scarce and one must walk along the roadways which are narrow and sloped. No easy beach access.
Pets: Unknown.
Swimming: A beautiful sandy beach offers guarded swimming for town residents typically the first weekend in June through Labor Day, 11 am to 8 pm. Call 716-646-5145 for details.
Boat launch: There's a boat launch at the north end of the park, which is available to town residents only. A permit sticker can be purchased in the fitness center.
Accommodations: Snack bar, swimming beach, scenic views, boat launch, restrooms, volleyball, picnic facilities, windsurfing area, fitness center (paid).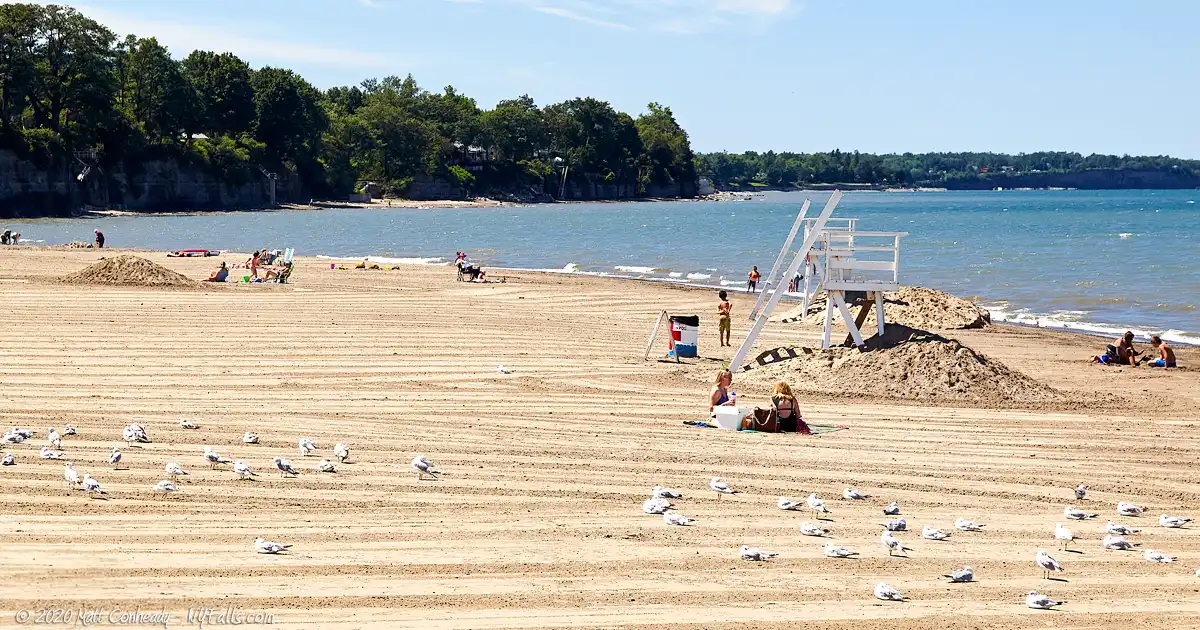 The Hamburg Town Park & Beach is located on a sloping shore of eastern Lake Erie, just west of the hamlet of Athol Springs. The park centers around a large white building overlooking its golden sandy beach. Within is the fitness center, changing rooms, park office, and a snack bar. There is also a concrete boat launch and an area set aside for windsurfing. Although it is a nice setting, with ample parking, a clean and guarded swimming area, and excellent views of Lake Erie and Buffalo on the horizon, access is limited to Hamburg Town residents (and their guests) only, and so we recommend passing it by and heading either west to Wendt Beach Park, or north to Woodlawn Beach State Park.
The Locksley Park Company, a residential development firm, deeded this land over to the Town of Hamburg on October 5, 1914, for recreational use for Hamburg citizens.
Our recommended walk
Difficulty: Moderate (due to sloping walkways).
Distance: A walk around the park is no more than a quarter mile.
Markings: Paved driveways.
Description: There are really no trails or defined walkways here. When we visited, we started from the west parking area, went to the beach, walked along the water and then up to the second parking lot. We then walked up the hill to the gazebo, and looped back down the driveway to our car.
Map: Check out our interactive map.
Hamburg Town Beach & Park Interactive Map
You can fish from stones along the shore just west of the boat launch.
New York State Route 5
Beginning at the Pennsylvania state line in the Town of Ripley, State Route 5 spans 370 miles west to east across New York, passing through Buffalo, Syracuse, Utica, and Schenectady, ending up in Albany. Along the way it overlaps with State Route 20, leading to the common name of both routes as simply "5 & 20." Several small towns and cities, as well as countless curiosities, eateries, and historic sites can be experienced along its path.
Hoak's Restaurant
Hoak's, which is just to the north, near the Hamburg Town Clock, is one of the best spots to get Buffalo cuisine. What to get? The Fish Fry.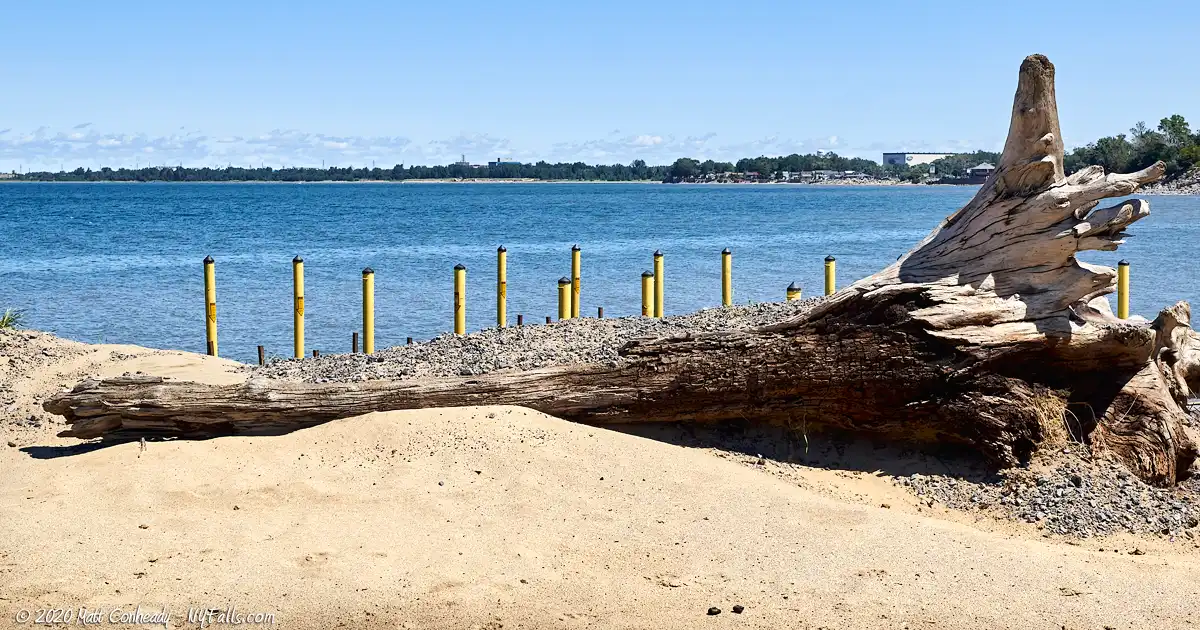 Sunsets
The eastern shore of Lake Erie is ideal for sunsets. The Buffalo waterfront is a great place to catch boats, birds and the interesting seawalls in the frame to keep those sunset photos interesting.
Birding
Don't forget that long lens. This is a decent spot for birding, but it is even better across the street at the preserve.
During the spring and fall migrations, get here early for more bird traffic and less people traffic.
More tips
Find a new summer hangout spot or place to swim in our comprehensive guide to Lake Erie Parks and Beaches in New York State.