Mount Hope Cemetery, Rochester
Location / Directions / Maps
Location: In the south end of Rochester, Monroe County, New York
Address: 1133 Mt. Hope Avenue Rochester, NY 14620
Phone: (585) 428-7999
Days / Hours: All year. Open daily from dawn until dusk. Office is closed holidays.
Maps: Cemetery grounds; Google Map; Topographic; Bing Map (Bird's-eye view)
Admission: Free.
Handicap accessibility: Only the main office.
Pets: Allowed, on leash. Must clean up after. Not allowed in any of the fountains or ponds. Dog owners who allow their dogs to roam off leash will be fined. Individuals who repeatedly fail to abide by these rules may be banned from the cemetery.  If you observe an unleashed dog, please call 311 to report it.
Accommodations: Maps and information available at the office or entrance kiosks. Restaurants and shopping along Mt. Hope Ave.
Best time to visit: Year-round with fall adding spectacular color (try late October), and winter adding an eerie calm. Spring and summer are best for flowers.
A garden, a park, a resting place
The rolling hills, magnificent trees and melancholy artistry that make up Mount Hope Cemetery in Rochester, NY, combine to create an eerily beautiful setting, meant to house Rochester's dead, at the same time creating a treasured park and museum to the living. The narrow roads of the cemetery wind around the shaded hills leading visitors to parcels of unique character and mood, making this an exciting place to explore. From towering obelisks that seem to pierce the canopy to headstones that hide under blades of short grass, the diversity of the stone monuments here is only trumped by the variety of classes, races and characters that fill the ground beneath. Mausoleums symbolizing power and wealth share hilltops with unmarked gravestones, and unrelated family plots seem to randomly intertwine. Here one can find organization everywhere, with proper rows of matching stones, and carefully labeled sections and maps. But the real treasures here are the solitary markers that lie off near the hillside or in the shadows in their own microcosms and surely have their own stories to tell.
A walk in this cemetery is barely fulfilling without a guidebook, or better yet an experienced tour conductor. Even common graves have stories to tell. Some beaten and broken by time and weather, tell the story of their time and nurture. Wives' stones, snapped in half by unknown forces, have been lovingly rested upon their husband's and the tragedy of a child's death can be felt in the loving words engraved for him or her. An historian can easily discover hundreds of stories buried within the cemetery grounds; an artist can easily tell a thousand more.
The breathtaking geological landscape, the eclectic mix of monuments in various states of decay and repair – from the well-kept and pristine to the illegible and crumbled, and the tales they all have to tell – make Mt. Hope Cemetery one of New York State's best locations for photography.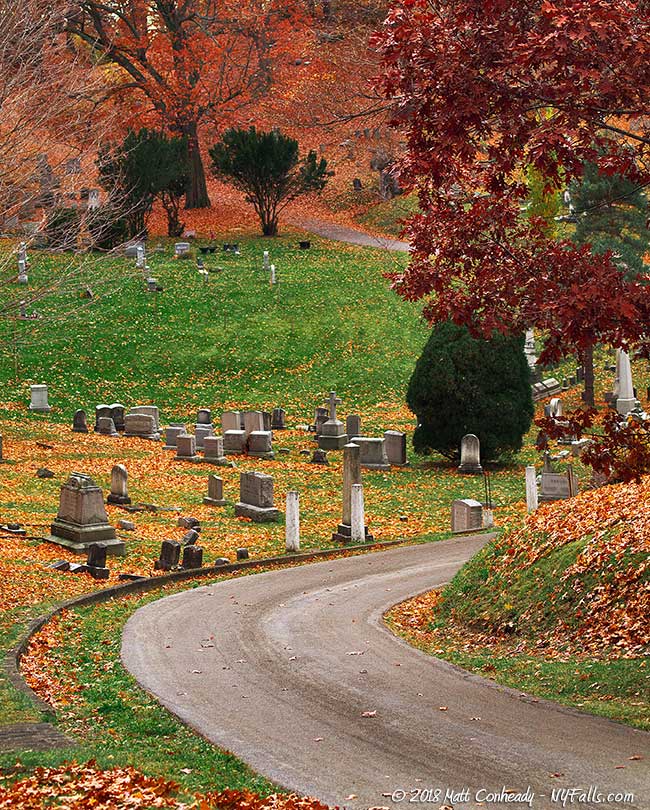 Roughly 12,000 years ago, the land that is now Mt. Hope Cemetery was under a mile of thick glacial ice. If one were to look closely at the cemetery, evidence of this once predominant ice mass can be seen throughout the entire landscape. As glaciers melt they leave behind, among other things, ridges of rock, rubble, natural embankments and drumlin hills. This type of glacial moraine, to the benefit of the conscientious observer, weaves its way through much of Mt. Hope Cemetery, extending east through Highland Park and Cobbs Hill Park, and forming a risen stretch of land dubbed, in Rochester's early days, as "Highland." This particular glacier also left four kettles within the cemetery grounds, one of which still currently holds water (named Sylvan Waters). As one walks the roadways and paths now it's easy to feel the power of ice that once was.
While Mother Nature transformed the 196 acres of Mount Hope Cemetery into the perfect, park-like setting for the Victorian cemetery to come, one might wonder who or what made it a Victorian cemetery?
Initially, in the western world, it was customary to bury the dead inside churches or in nearby churchyards. In times of disease, wars, or any horrific events, mass graves were generally used. Little regard was made for a cemetery's location or landscape, so often times these burial practices, and the close proximity of unresolved decay, brought about diseases in the living.. During the reign of Queen Victoria, new, rural, landscaped burial grounds were established. These flourished. The concept of a cemetery's "beautiful park-like landscape" stems from Pere-Lachaise Cemetery, established in Paris in 1804, located on hills chosen specifically because they overlooked the beautiful city.
Rochester went through the process of dealing with its dead right along with the rest of the world, and cemetery expansion became a huge concern during times of frequent cholera outbreaks. While it seemed prudent to remove the early city cemeteries simply for health purposes, a rural cemetery was not an easy sell. Families of those already interred balked at removing their loved ones, and were concerned about unmarked burials or those without family to rebury them elsewhere. The costs in securing an adequate amount of land for a new cemetery seemed extreme. Also, there was the question of how anyone would get to a rural cemetery to pay their respects.
"…howling with wild beasts, frogs and simply too spooky."
On December 27, 1836 the city of Rochester finally acquired the first plot of land for a cemetery (about 56 acres at quite an expense) from Silas Andrus (a land speculator) on the east side of the river, south of the city. General Jacob Gould, Rochester's first Democratic mayor, was outraged, holding back nothing when he announced, "Why, that ground isn't fit for pasturing rabbits." Many a citizen felt the area was "howling with wild beasts, frogs and simply too spooky." All voices heard, this wild, glacial land would eventually grow to become one of the most beautiful cemeteries in the world.
Silas Cornell designed the cemetery layout. He carefully put in roads (14 winding miles of them) and cautiously took out trees. It was his skill as a landscape architect that turned this wild, spooky area into a majestic place. Cornell wanted to name the cemetery "Mount Auburn," after a cemetery he had seen in Boston, but this did not bode well with others. The cemetery remained nameless for months, while work continued on. William Wilson, one of the laborers working there, sent his bills to the city with the notation, "for labor at Mount Hope." It was the first known usage of the appellation. Maybe Wilson had 'hope' for a better life for his family because of this work, or perhaps, 'hoped' the city would soon come up with a name for the cemetery. Whatever Wilson's reason on 3 October 1838, Mount Hope Cemetery was officially dedicated. Was Wilson responsible for naming the cemetery? It is still undetermined.
Things you may wonder about
Leaving Pebbles or Stones on a Grave Marker
As you explore Mt. Hope you may notice a pebble or small stone left on top of a tombstone. This Jewish tradition signifies that someone has honored the deceased person's memory with a visit to the grave. While a Jewish tradition, you will find that this has spread into general use while retaining the meaning originally behind it.
Victorian Symbolism
In the late 1700s the perception of death was changing from evil and sin to hope and forgiveness. Instead of skulls and crossbones, the enlightened Victorians used willow trees and angels, anchors and ivy, more natural and positive symbols on grave markers. The elaborate and simple grave markers which represent this change in ideals, can be found throughout the cemetery,
There are many obelisks to be found reaching for heaven at Mt. Hope. Often topped with a pyramid, this was a symbol for the Egyptian god Ra, who had the power to recreate. There are tree trunks telling of a life cut off, urns relating to the mourning of a family, flames announcing eternity and inverted torches telling us of a life snuffed out. Many variations of the endless-knot can be found. The delicate, endless design often addressed the belief in reincarnation.
As you discover stars, broken columns, lambs, and drapery, rest assured that a message is there waiting for you. If you want to know more about the messages, there are many accessible publications about Victorian cemetery symbols.
The Civil War In Rochester
The 140th Vol. Infantry, led by Col. Patrick O'Rorke (namesake of the drawbridge in Charlotte), is likely the better known of Rochester's regiments but many Rochester men served many regiments. Mt. Hope's Civil War plot (Section BB) is a testament to those who gave their "last full measure," but even more of this war's casualties are buried throughout the cemetery.
The bronze sculpture at the Civil War plot was created by Sally James Farnham who studied under Frederick Remington (the American artist best known for his paintings, drawings and sculptures capturing the vitality and spirit of the American West).
Mausoleums
Mount Hope is home to 75 building-like tombs, a statement of opulence, class or just preference.
General Jacob Gould, a Revolutionary War hero, shoe merchant and Rochester mayor, who ironically opposed the land purchase that would become Mt. Hope Cemetery, had his mausoleum built into the hillside (Section C). Its style is purely Egyptian and is topped with an Egyptian obelisk, a symbol of Ra.
Nathan Stein, of the Stein-Bloch Clothes in Rochester, erected the largest mausoleum in Mt. Hope. Built in the Greek Doric style, this awe-inspiring mausoleum can "sleep" twenty and still have room to dance the night away.
Originally, the mausoleums provided not only shelter from the weather for family and friends visiting the departed, but also shelter from the distractions of the outside world.  Many of the mausoleums had lovely stained glass windows and relatively comfortable sitting areas. Now, many of these incredible structures are locked or permanently sealed to protect the residents. Their outer glory remains an intrigue and statement of personal taste.
The Gatehouse and Gazebo
At the north entrance is the Neo-Romanesque style gatehouse built by A.J. Foster in 1874 (on the left) and the Moorish-style gazebo, erected in 1872 (on your right). Both look incredibly new, as they should, considering they have undergone major restoration.
The Original Chapel (1912 Chapel)
After coming in through the north gate and driving past the cast-iron Florentine fountain you come face to face with the original 1862 Gothic Revival chapel and its 1912 addition. The newer addition fits in particularly well with the original structure, except for its enormous chimney. Constructed this way to lift the smoke up and over the chapel and nearby ridge, designed by J. Foster Warner (son of the gatehouse designer, A.J. Warner), who was able to blend together the chapel and the main crematory styles quite well, without sacrificing the proficiency of the chimney. It was one of the earliest crematories built in the United States.
"there have been more than 375,000 burials at Mt Hope, marked or unmarked."
The Monuments
Early tombstones were generally made of marble or slate, but Victorians used granite most often. Granite didn't flake like slate, was incredibly hard and came in a wide variety of colors and textures. Marble was a second choice.
If you look closely you may come upon a few bluish gray markers. This is molded metal. Not stone. It's almost pure zinc so as it ages, it protects the metal underneath and its color change often appears to be that of stone. While inexpensive and often ordered from catalogs, the century old, molded metal monuments in Mt. Hope have hardly lost their detail.
Burial Numbers
Surely, as you wander through Mt. Hope you must wonder how many people are buried here. You may have noticed small, flat markers, no larger than a football engraved only with the single word BABY or GRANDMOTHER or GRANDFATHER. Yes, there are unmarked graves as well. However, incredibly thorough records of the burials have been kept throughout the cemetery's history. Because of this, we know there have been more than 375,000, marked or unmarked.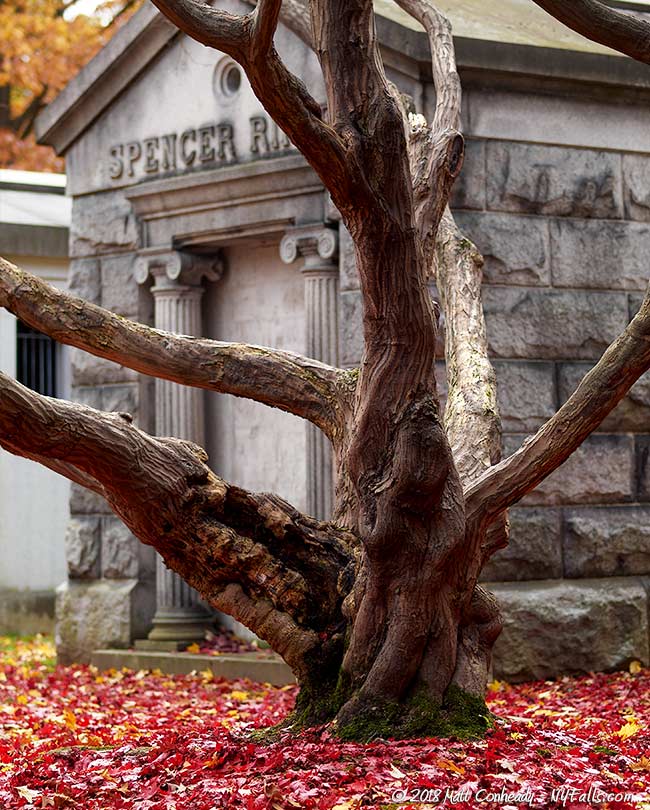 The magnificent trees on this plot of land included red, black and white oaks, chestnut, American beech, red and sugar maples, basswood, tulip trees and white ash. On the tenth anniversary of the cemetery, Ellwanger & Berry Nursery (then across the street from Mt. Hope) gave a gift of fifty shade trees including European purple, fernleaf and weeping beeches, Nikko fir, Caucasian spruce, Norway maple and variegated sycamore maple trees. Some trees in this cemetery are at least 400 years old!
Silas Cornell, the landscape architect who laid out Mt. Hope also penned and published a wall map of Rochester in 1839 that was so accurate and so detailed, that it became the base plan of the city from which all later surveys and maps were tied. His sundial, on the front lawn of the old First Presbyterian Church on South Fitzhugh Street, was so accurate that one could set their watch by it. His grave is in Section G.
The Rev. Thomas James was born a slave in Canajoharie, New York in 1804 and died in Rochester in 1891. He founded the A.M.E. Zion Church in Rochester, and during the Civil War, he assisted Union authorities in the relief of newly liberated blacks in Louisville, Kentucky. His autobiography, The Wonderful Eventful Life of Rev. Thomas James, is a quiet statement of an extraordinary man. (Range 1 Lot 367 ½)
William Carter (Section A) was the first burial at Mt. Hope. However, the cemetery wasn't officially open at the time of his burial. The first burial after the cemetery's dedication was Samuel Miller, who quite astonishingly passed at the exact time the cemetery was consecrated. Talk about good timing!
Lillian Wald was a practical idealist who worked to create a more just society, and is widely regarded as the founder of visiting nursing. While nursing was her lifework, her concern over the horrendous treatment of African-Americans (especially the rash of hundreds of lynchings) led her to be one of the seminal founders, in 1909, of the NAACP (National Association for the Advancement of Colored People). Her grave is in Section 3 at the corner of Grove Avenue and Evergreen Avenue.
"Though you'll come across Nathaniel Rochester, Susan B. Anthony, Frederick Douglass, you won't find George Eastman."
George B. Selden was a Rochester attorney and inventor. On his tombstone is the likeness of the early gasoline automobile which he invented (despite Henry Ford's claim to the contrary). When the Rochester trolley horses became too ill to pull a trolley up to Mt. Hope, Mr. Selden made a gasoline driven trolley for this purpose. Mr. Selden held the patent, which Ford ignored. Mr. Selden sued him, and after an 11 year court battle, Henry Ford paid George B. Selden royalties and kept on making cars. George B Selden's marker is found in Section C, Lot 108.
James Hard, a Civil War veteran born in 1841 and died in 1954 is believed to be the oldest man buried in Mt. Hope. Cynthia Fitzpatrick was born of slave parents in Mississippi in 1864 and died in Rochester in 1983 at the age of 118. Yes, she's the oldest female buried at Mt. Hope.
Though you'll come across Nathaniel Rochester (Section R), Susan B. Anthony (Section C), Frederick Douglass (Section T) and a host of other historic figures buried at Mt. Hope, you won't find George Eastman. Mr. Eastman was cremated at Mt. Hope but his ashes can be found in a special memorial area at the entrance to Kodak Park.
Believe it or not, Buffalo Bill's children are buried in Mt. Hope Cemetery. You can find that marker in Range 2 at the corner of Elm Avenue and Woodland Avenue.
"The Rochester Mirage." There once was a two story pavilion on the highest summit of Mt. Hope called Fandango. It was a favorite resting and gazing spot for visitors. On April 16th, 1871 it seemed, to confused spectators, as though Lake Ontario had flooded over the city and Canada was well within view. Some who witnessed this incredible sight claimed that they could see Rice Lake in Canada. New arrivals to Fandango that day assured the frightened visitors that Rochester was unchanged and perhaps the startling sight was a result of unique atmospheric conditions. This incredible event would be reported in Frank Leslie's Illustrated Newspaper a month later as "The Rochester Mirage."
Places you may want to leave a pebble
John Jacob Bausch and Henry Lomb
Founders of Bausch & Lomb Company. (Section D)
Hiram Sibley
Founder of Western Union and instigator of the purchase of Alaska. (Section V)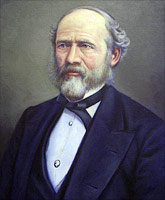 Lewis Henry Morgan
(1818 – 1881) 
Studied the Iroquois so thoroughly he is considered the father of the science of modern anthropology and social theory. He wrote"The league of the Iroquois."
(Section F)
Rochester Orphan Asylum
A general marker identifies the burial area. The original asylum was a home on Sophia Street. (Section 0 – north end of First Avenue)
George Washington's drummer. (Range 2 north end at Elm and Second Avenues)
Susan B. Anthony
Women's rights activist. (Section C – near Indian Trail)
Elizabeth Hollister Frost
An eminent Rochester novelist and poet. (Section G – along Dell Avenue)
Dr. William C. Warfield
Veteran of World War II, best remembered for his deep baritone voice. The Showboat tune, "Old Man River" has yet to be sung as this vocal musician rendered it. A teacher and constant tribute to music and Rochester, he sings now at Mt. Hope. (Section AA)
General Elisha Gaylord Marshall
Captured in the crater at Petersburg during the Civil War and survived to receive a high brevet commission, though the battle at the crater was a Union disaster. (Section G)
Albert Hotchkiss
Civil War youth, captured and died in Andersonville Prison in Georgia, then reburied by his family in Mt. Hope. (Section C – Indian Trail)
May Fielding
In the Home for the Friendless plot, there is a sad, yet very kind marker for this 15 year old, while slave girl. (Section P)
Nancy Harris Quakenbush
Her marker states that she was born on the spot she's buried. She was born there in a log house before Mt. Hope Cemetery was created. (Section H)

Myron Holley
(1779 – 1841)  
State Assemblyman who helped convince the state to fund the Erie Canal project. As a Canal commissioner he oversaw, by horse, all the canal work done in our area.  He was wrongly accused, then absolved of, taking funds. His friends purchased his marker, at which 6,000 of them gathered for its dedication.
(Section G – along Dell Avenue)
Seth Green
Invented the fish hatchery and gained national fame when he quadrupled the fish population of the Connecticut River. (Section S)
Jacob Myers
Invented the first voting machine used first in Lockport, NY in 1892 then throughout Rochester by 1896. (Range 4)
James Gould Cutler
Architect turned inventor best known for his Cutler mail chute, still used everywhere today. (Section MM)
J. Harry Stedman
Invented the fuzzy pipe cleaner (now nearly extinct) and the streetcar transfer now used by most bus-transfer systems. (Section MM)
John Snell
Killed at his job as engineer of the steam engine, Daniel Webster, by a malicious act (the placing of bars of track across his track), his last uttered words made him a local hero. He simply said, "Tell them to take care of my engine." (Range 3)
Hartwell Carver
Father of the transatlantic railroad. (Range 2 -along Evergreen Avenue)
Henry A. Ward
Geologist and natural scientist. The boulder on his marker was one of his finds in Georgian Bay, Canada. (Section G)
Alfred Ely
Was U.S. Congressman at the time of the Civil War; witnessed Bull Run and was captured. In Richmond prison for six months and paraded through southern streets in a cage – prized Yankee congressman. He was eventually released.  (Section D – mausoleum)
Rabbi Phillip S. Bernstein
Internationally known Zionist, author and distinguished Rabbi of Temple B'rith Kodesh in Rochester. (Range 7)
Lucy Lee Call
Renowned soprano in Europe and Metropolitan Opera in New York City before coming to Rochester to teach at the Eastman School of Music. (Section 0)
Sarah Kirby Hallowell Willis
Attended first Women's Rights Convention and signed the Declaration of Sentiments – financial supporter as well of the movement. (Section V)

Margaret Woodbury Strong
(1897 – 1969) 
The only child of a highly wealthy Rochester family, and a tireless collector of toys and trinkets from around the world, her collection of items from post-Industrial Revolution US popular culture is one of the largest in the world. She founded the "Margaret Woodbury Strong Museum of Fascination" in 1968, which is now the Strong Museum of Play.
(Section C – along Linden Avenue)
Sophie Friederike Johanna Dorothea Steinmuller Kalmbach
Yes, that's her name, a popular belief in the 19th century that the more saints' names you had, the better your chances of reaching heaven. (Section AA)
Colonel Josiah W. Bissell
The engineer who built the Erie Canal Aqueduct that still spans the Genesee River in downtown Rochester. He also named East Avenue simply by putting painted signs with the name on every street corner of the avenue and… the name stuck. (Section A)
Emily Sibley Watson
Founder of the Memorial Art Gallery has a distinct flat stone grave near the Watson family's elaborate Celtic cross. (Section D)
Henry O'Reilly
Founder and publisher of the Rochester Daily Advertiser and author (1838) of Sketches of Rochester, the first comprehensive history of the city. (Section G)
Blake F. McKelvey
A city historian of Rochester best known for his four-volume history of Rochester some hundred years following Henry O'Reilly. (Section G)
Edwin G. Strasenburg
A druggist who manufactured his own compounds and started Strasenburgh Laboratories. After selling his company he gave back to his community by financing the planetarium for the Rochester Museum and Science Center. (Section MM)
Colonel Nathaniel Rochester
The founder of the city that bears his name. Colonel Rochester died seven years before Mt. Hope Cemetery started, and was first buried in the Buffalo Street graveyard. In 1851 he was reburied at Mt. Hope. (Section R)
Mount Hope Cemetery tours
The Friends of Mount Hope Cemetery offer guided walking tours of the cemetery each weekend, May through October.
Nearly all Friends' tours and activities are free to members.
TOUR GUIDELINES: Please note that Mount Hope Cemetery is a natural terrain, and tours are not always kept to paved paths. There is often walking in grass, dirt paths, and some hills, particularly in the north end. We recommend comfortable walking shoes — not open sandals. If you have any questions or doubts about the particular tour you'd like to take, please call ahead for more details.
Phone: (585) 461-3494
Other Mount Hope Cemetery Galleries